Home » News & Resources » Transit Display/Digital Signage » Transit Displays for Puerto Rico Ferry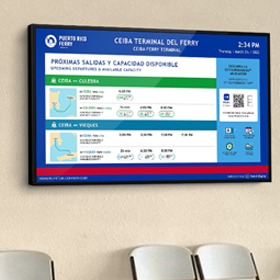 Transit Displays for Puerto Rico Ferry
Redmon Transit Displays are available for Puerto Ricans, and in use at all the ferry ports at Puerto Rico Ferry. These provide real-time departure, arrival, status, seating and schedule information. These displays also contain video advertising.
Transit Displays for Puerto Rico Ferry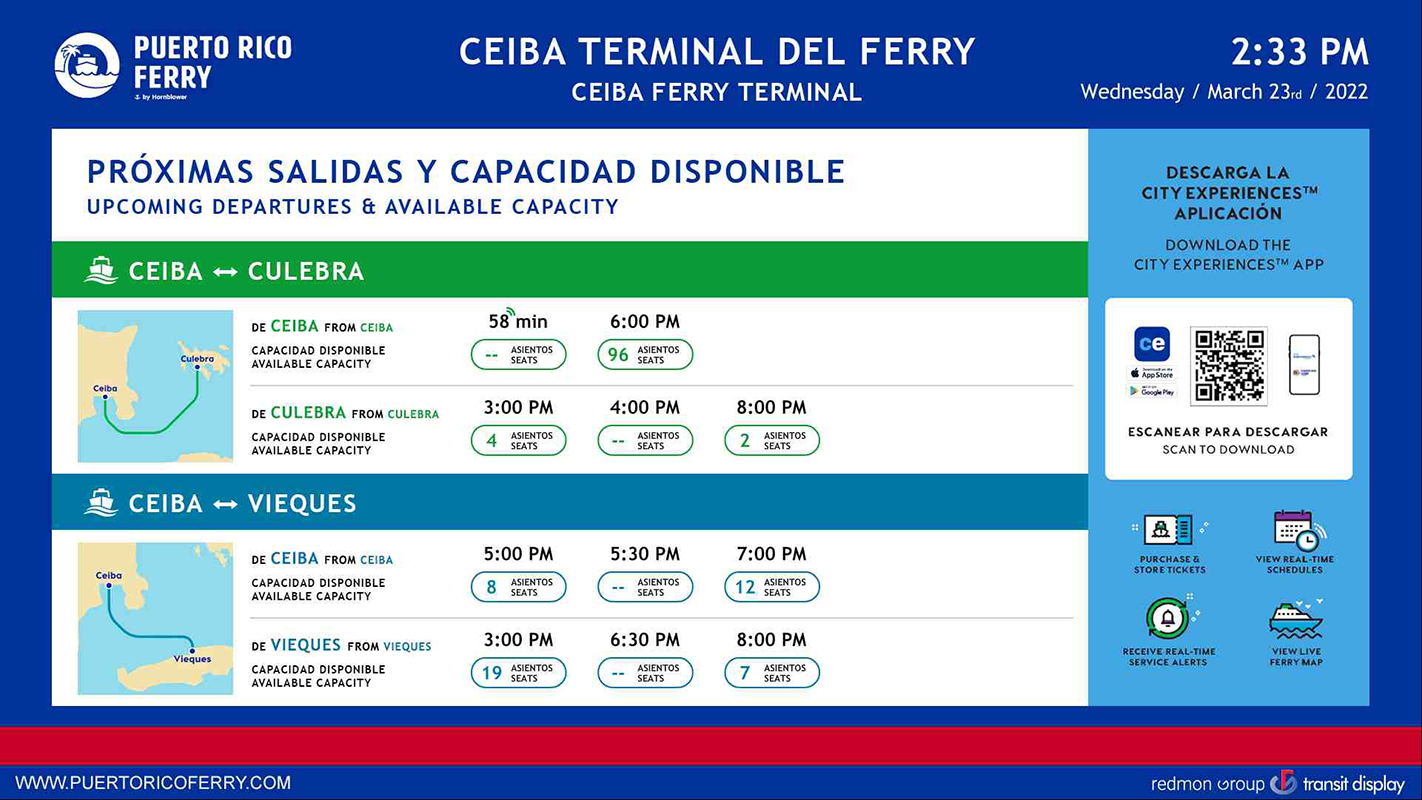 The Commonwealth of Puerto Rico, an Eastern Caribbean territory of the United States, is an archipelago of 143 islands. The population of the territory is primarily on Puerto Rico (the main island which is about 100 miles long and 35 miles wide) and the smaller islands of Vieques and Culebra. Transportation in Puerto Rico has been always been a challenge with people preferring to get around in a car. There is limited public transportation from the main island to the smaller islands, with only 2 choices: airplane or ferry.
Although air travel can be quicker, it is more expensive. Travel via ferry to the smaller islands is more affordable, and although it takes more time, passengers get to appreciate all the beautiful scenery and get the most out of the experience.
Hornblower Group, Victory Cruises and a number of day cruise and excursion companies have partnered with Puerto Rico's maritime authority to operate the islands' ferry system, featuring service between San Juan and Cataño on the main island and between the main island and the islands of Vieques and Culebra. Redmon Transit Displays are available at all ferry ports and provide real-time departure and arrival, system status, and video advertising as well as information on the amount of available seating on each trip.
Along with the standard setup and configuration tasks, Redmon was responsible for collaborating on the design of the displays with Hornblower in-house designers, as well as integrating Hornblower's custom seating data API onto the displays.
At Redmon, we have helped passengers stay well-informed of everything related to the ferry service through our Transit Displays; so they can board their ferry and arrive at their destinations quickly and comfortably.